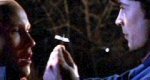 Bone
Alexander
The Look series (Highlander/Sentinel crossover)
Author's Note: I've been inspired to rework this story for professional publication. If it's not accepted by the publisher, I'll restore the original work to the archive.
The Fast & The Furious/Point Break Crossover
Sports Night
The O.C.
Get Real
Reunion :: 64 kb :: John Dixon/Steven Carter :: NC-17
Roswell
Smallville
Y Tu Mama, Tambien
Bone
's site is maintained courtesy of the
Webmeister
, yo.